Kia ora,
Welcome to your NZHIA October update, here's a sneak peek of this month's newsletter;
IN THIS ISSUE:
An update from the NZHIA Chair
The NZHIA Work Plan
AGMARDT Funding
iHemp Magazine Issue #17
Callaghan Innovation, "Full Plant Utilisation" Workshop
NZHIA Blog: Plastic Free Future
News from NZ and around the Globe
Icons for the industry
COMING UP IN NOVEMBER
UPCOMING EVENTS:
The Agricultural Show Cancelled
18 NOVEMBER 2021: Venture Taranaki: Hemp Construction Event
25 NOVEMBER 2021: Sustainable Business Awards
2 DECEMBER 2021: Callaghan Innovation "Full Plant Utilisation" Virtual Workshop
10 & 11 FEBRUARY 2022: Medcan 2021 Summit
22 – 25 MARCH 2022: Australian Industrial Hemp Conference, Tasmania
---
An update from the NZHIA Chair
We have some exciting plans coming up that we are looking forward to sharing with you.
We have been working closely with Webtools Agri in the development of the Hemp Licencing Tool and have distributed a Licencee survey (here) to our Members and iHemp community. The information gathered will be crucial for the development of the software. And to assist and simplify the licencing procedure and improve the workability of the regulations.
Secondly, we are organising a countrywide tour with the support of Agmardt to help build the hemp industry network, more information on this will be released in the next newsletter.
These events will take place in early-mid 2022 and will range from town hall-style public forums to industry networking events, as well as hapū and council meetings. Each meeting will be talking about the specific requirements for each place, providing information and highlighting the gaps in the local value chain. The aim is to help locals join together to co-create and build capacity in their region.
Lastly, we are acting on multiple points within our 5 year Workplan and both the Government and R&D Committees are eager to help facilitate the Health and Wellness, Fibre, Food and Growing communities to gain traction, with consumers, funders and the Government.
As spring transitions to summer, we look forward to November when our iHemp growers across Aotearoa New Zealand will begin planting.
Richard Barge
NZHIA Chair
---
High Level Workplan Update
The NZHIA has released our high level workplan to members, this workplan contains a review of the issues and opportunities we are facing and some of the work being done. We have mapped out our 5-year plan, with priorities and objectives as we build toward a 2 billion dollar industry by 2030 (here), it is going to be an exciting period for the industry.
The Aotearoa New Zealand iHemp industry is inclusive and will play an important role in transitioning to a more resilient regional economy. We need to come together as "a coalition of the willing" to make progress on our common goals of a fully enabled hemp industry.
This document starts us on this co-creation path, and we look forward to partnering with hapū, industry and the Government to make it happen.
---
NZHIA have received funding from AGMARDT to help build the iHemp Network
The Executive is pleased to announce AGMARDT have continued their support of the industry via a $30,000 grant "iHemp Networking and Industry Building Initiative".
AGMARDT continue to support our industry. We received a conference speaker grant in 2018 and a 2020 grant that was used to produce the "NZ Hemp Export Driven Investor Report".
This latest grant will allow us to build on the investor report and fund more communication and network building activities to achieve our goals including:
To build a collaborative network of people, organisations and businesses involved in the iHemp Industry.
To identify the gaps in the value chain and match capacity to capabilities.
To identify the R&D required to scale the industry in the direction that has the best markets and maximise returns.
To provide information, direction and feedback for businesses to get involved in the industry and achieve export success.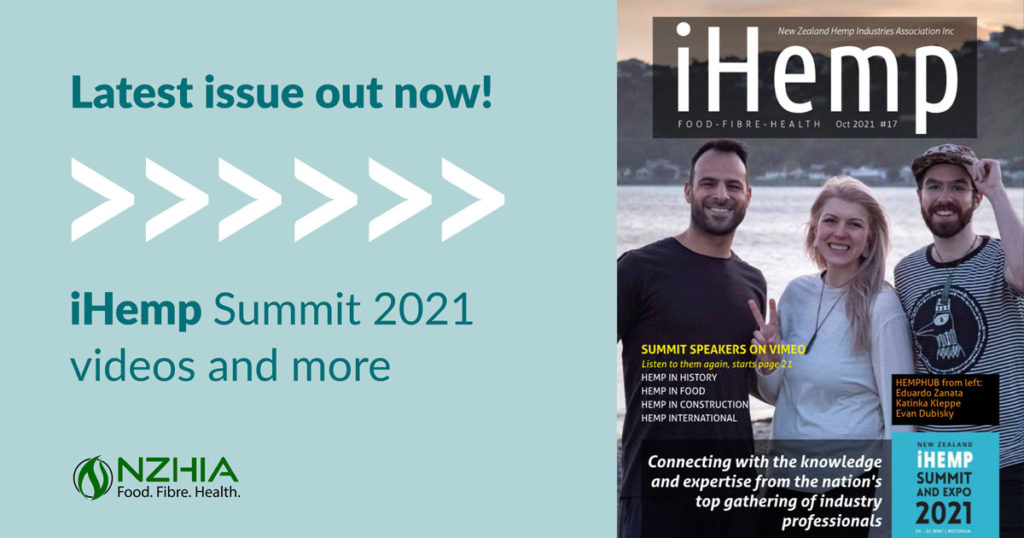 Reconnect with the iHemp Summit 2021 Speakers
This month, we're showcasing the iHemp Summit presenters, with bite-sized summaries of each speaker's discussion and a link to their video presentation. The speakers share insights on:
Strategy
Industry experience
International perspective and learnings
Resources and grants
The latest issue is OUT NOW, read the edition here: iHemp Magazine Issue #17
---
Callaghan Innovation Full Plant Utilisation Virtual Workshop
A virtual workshop is to be held on the 2nd of December for 2-3 hours with the purpose to present the report outline and polling of attendees to gain industry agreement on the direction and prioritisation of the BPA project. More information to follow.
---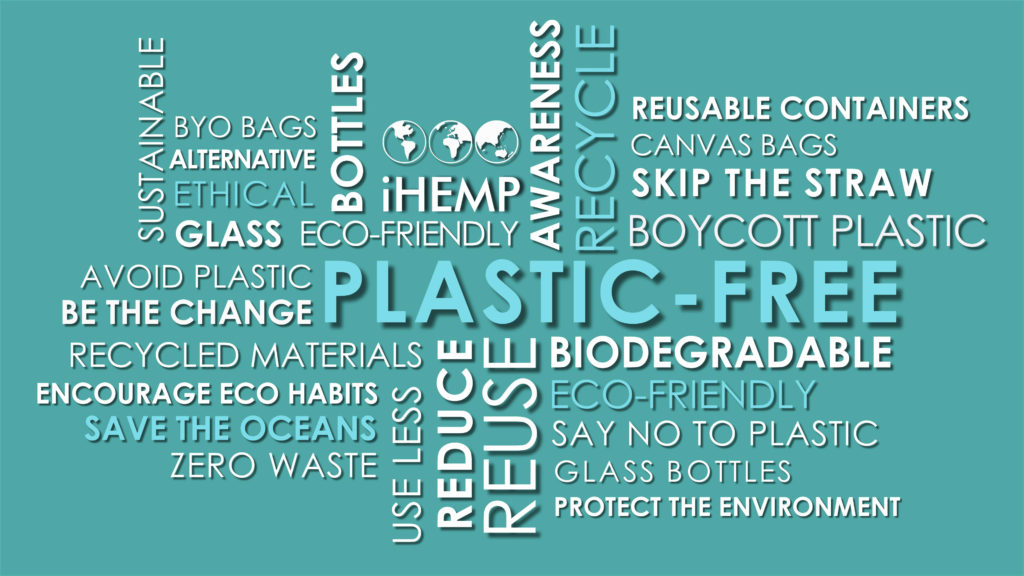 In our most recent blog, we look at how the iHemp industry can support a plastic-free future.
What does a plastic-free future even look like?
Our global plastic waste situation has become dire and can often feel overwhelming.
We delve into how we can implement changes and impact on our current environmental situation by adopting simple steps and alternatives to move forward, and even create new opportunities.
NZHIA Blog: How can the iHemp industry support a plastic-free future

Industry-related press statements to share across our network.
Greenfern set to list on NZ Stock Exchange
Greenfern Industries Ltd, an entrepreneurial company that operates in the medicinal cannabis, hemp and hemp food space, has gained approval from the NZX to have its shares quoted on the NZX main board.
Greenfern Industries' shares were listed on Thursday, 21 October. The Taranaki-based company was founded by Dan Casey and John Hussey in 2018.
This is the first time in 20 years that a new company from Taranaki has been publicly listed. Dan Casey (pictured), the company's managing director, said this was another major step forward for Greenfern Industries.
Read more at www.gfi.nz.

iHemp industry news from New Zealand and around the Globe.
Organic Farmer: Hemp Research Takes a Closer Look at Plant Responses to Nitrogen Read More +
Hemp Today: Czech change on THC limit sets an example for other EU states Read More +
CannaTech Today: How Hemp Clothing Could Help  Save the World Read More +
---
Coming Up in November
Branching Out – Hemp Construction Event
Venture Taranaki are inviting those in the construction industry, architects, property developers and hemp growers to the 'Branching Out with Hemp Construction' event. The event is already at capacity due to popularity, however, a presentation link will be provided in the November newsletter.
The event will cover:
Introduction to the hemp building industry
Hemp as a carbon-neutral/negative building material and other benefits
An overview of the hemp construction industry, both globally and locally
The opportunity that exists for Taranaki
Examples of recent successes, considerations and challenges, and opportunities for innovation and collaboration
What's needed to enable a Taranaki hemp construction sector
A demonstration build will take place on 21 November 2021 and we'll include a build-related news piece next month.
For more information or to subscribe to their newsletter for future events visit venture.org.nz.
---
Introducing our new series of icons
The NZHIA Media committee has been busy creating representations that capture the various parts of the value chain.
These icons will help us to group resources that are relevant for each member.
The first in the series covers the value chain and next month the product and service categories.

The NZHIA website www.nzhia.com is an information resource for members, hemp enthusiasts and those curious about the industry. You'll find information on;
Nature gives to every time and season some beauties of its own

Charles Dickens
---