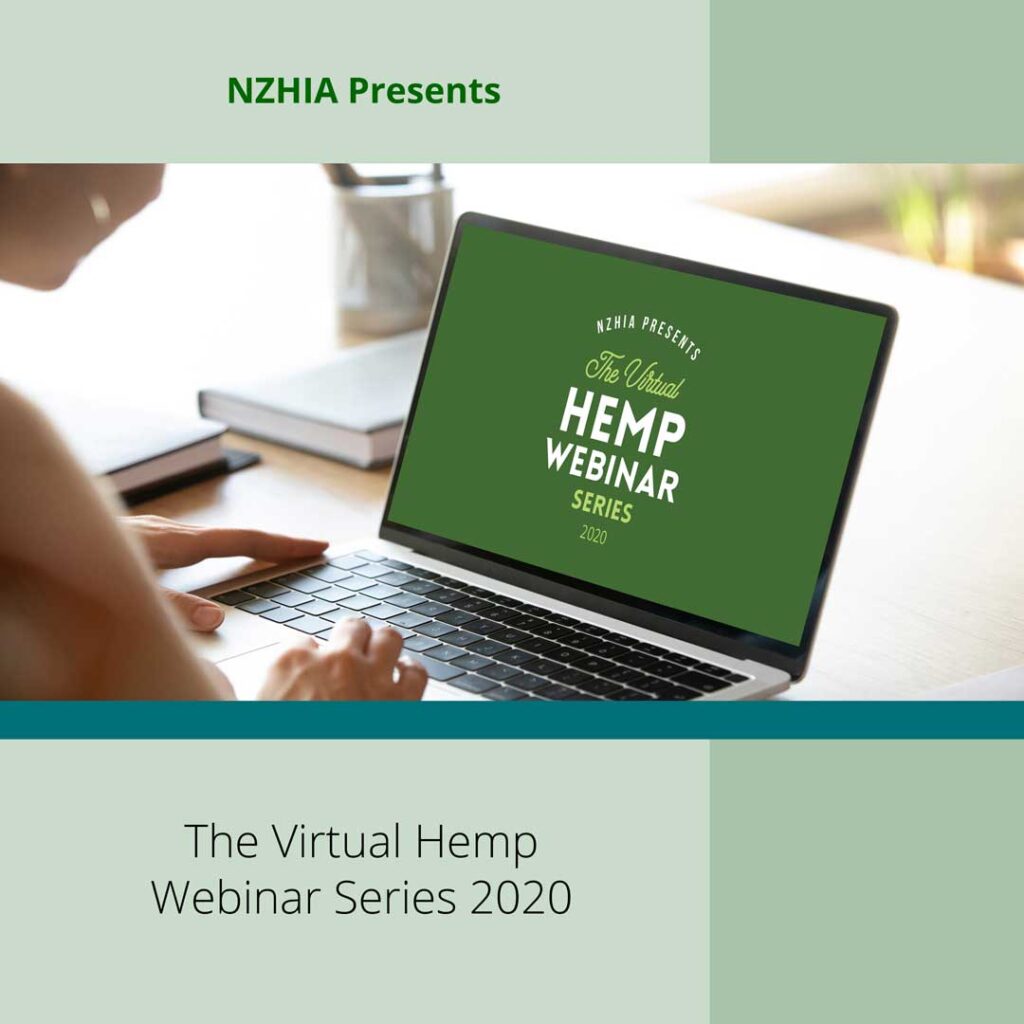 Due to the Covid-19 pandemic the NZHIA, like many, we had to adapt our plans into the virtual world, when the iHemp Summit & Expo event was postponed until 2021 and replaced by a virtual webinar collection.
The webinar series is an industrial hemp platform that includes knowledge and guidance from industry leaders, government officials, and researchers.
Each webinar is hosted by NZHIA Chairman Richard Barge, with a panel of guest speakers ending with a summary discussion and Q & A from virtual attendees.
The webinar series can be viewed here:
EPISODE 1: HEMP 101:
Introduction, terminology and potential for iHemp in Aotearoa/New Zealand
Presenters: Andrew Cameron (HealthiNZ/Callaghan Innovation) • Shane Le Brun (Medical Cannabis Awareness NZ – MCANZ) 
EPISODE 2: GOVERNMENT & TESTING
Government regulations and testing iHemp
Presenters: Hon Damien O'Connor (MPI) • Mary-Jane McCarthy (ESR) • Michael Haynes (MOH)
EPISODE 3: GROWING
Growing iHemp, in rotation, breeding, agri-inputs and food, fibre, health and phytoremediation crops
Presenters:  James Bailey (Momona Farms) • Andrew Ward (AsureQuality)• Anna Campbell (Abacus Bio)
EPISODE 4: EXPORT
Export strategy and the need for NZ to differentiate our brands, incorporating provenance & story into a product, leveraging being indigenous/Maori
Presenters: Tanya Wilson (Callaghan Innovation) • Peta Fraser (NZTE) • Richard Jones (MIHI Movers In Hemp Innovation)
EPISODE 5: FIBRE
Circular Economy and end uses, high and low tech markets, now and in the future
Presenters: Elspeth MacRae, Mathias Sorieul, Marie Joo Le Guen (Scion) and Carl Martel (Canadian Innovator) 
EPISODE 6: FIBRE
Growing and construction uses. Decorticating stems into bast fibre and hurd
Presenters: Jo Say (Hemp Building Association) • Dave Jordan (Hemp Farm) 
EPISODE 7: FOOD
How to use it: High value nutrition, R&D eco system and direction of travel regarding plant based foods and protein. New Product Development, healthy food trends
Presenters: Nicki Mackinnon (Nutritionist) • Alasdair Baxter (The Foodbowl) • Anant Dave (Riddet Institute)
EPISODE 8: FOOD
How it is made: Growing seed crops, packaging and marketing – compliance and considerations, scaling to meet the export potential
Presenters: Matt Johnson (Hemp Connect) • Simon Holst (MPI – NZ Food Safety) 
EPISODE 9: HEALTH
Medical Cannabis Scheme  – THC and CBD
Presenters: Manu Caddie (Medical Cannabis Council) • Tara Creaven (Caduceus Medical Development Ltd) • Mark Lucas (Cannasouth Plant Research NZ Ltd)
EPISODE 10: HEALTH
Natural health products/cosmetics and the wellness industry for cannabinoids, terpenes and flavonoids
Presenters: Nigel Slaughter (Ligar Polymers) • Samantha Gray (BioEquitas)
EPISODE 11: THE FUTURE
Scenarios and vision to develop the iHemp industry and call to action
Presenters: Dr Nick Marsh (Next Corporation) • Kirsty Harkness (VinHemp)